Montessori Series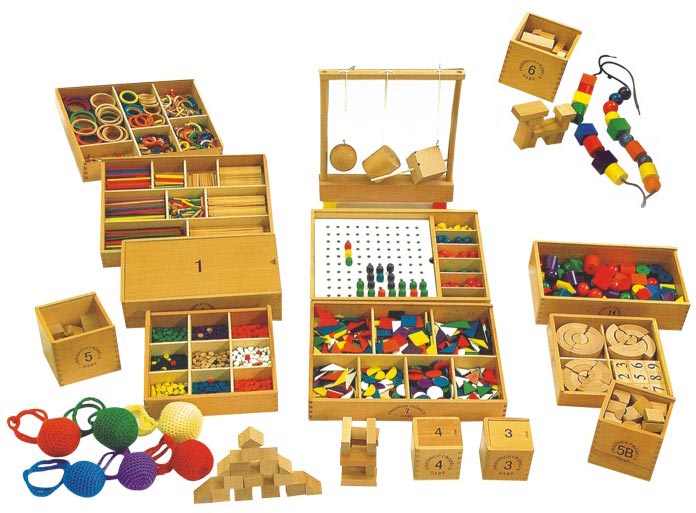 Montessori features
Montessori thinks: children with tremendous potential, his life is to the independent development. Through specific exercises such as basic living ability practice, practice, practice ( senses of intelligent language, mathematics, Sciences ) wait for a form, form a sound personality foundation.
The Montessori class is a small society of the prototype, in which children learn to respect others, acceptance of others, learn how to share their knowledge and skills to learn, learn how to lead others. Montessori classroom provides training children's emotional intelligence environment.
Montessori course, including sensory, motor, limb can, language and moral development, so that the individual becomes a physical and mental unity. " Freedom" and" discipline" in one," character" and" group " into account. Inspire children so that they have the ability to solve problems, to adapt to the new environment, to achieve self construction and the development of the mind.
Montessori education principle
Mainly in children -- for the children to create a centering on them, so that they can be independently" do it yourself"" children of the world".
Full teaching aids available -- children by senses to learn, we provide to his good stimulation more more can inspire his inner potential. Therefore, designing a suitable for the child's growth environment, should be able to provide rich materials ( including natural, humanities ), to induce him self learning fun.
Don't" teach" Education -- the traditional teacher-centered cramming education, while the main Zhang Ji by a good learning environment, beautiful rich teaching aids, let the children take the initiative to contact, research, formation of wisdom.
Grasp the sensitive period of learning -- the 0 ~ 6 year old children, in different stages of development, will appear on the preferences of different things" sensitive period". Montessori scientific early childhood education law emphasizes mastery children" sensitive period", and give appropriate learning.
Montessori education has an unlimited value of education studies, this study use children sensory sensitivity, through for child processes, let the children relaxed in operation to explore, in the exploration of absorbing many abstract concepts. Respect the children repeat the exercise characteristic, all school children operation can be repeated, to satisfy children's physiological and psychological needs.
Assist teachers in guiding position -- teachers must abandon the traditional way of education be opinionated, but from the side to give the children the help and guidance, let children become the subject of education, make them mind, wisdom.
Parents is the real key -- children's education, not only the school corner, the influence of social environment, it is omnipresent. In love Park parent-child classes, parents can learn not only the advanced teaching ideas and teaching modes, and the baby can also attend class together, in the course of promoting parent-child affection.